"DOCTOR BILL"
He's known as, "Buc's Doc Bill",
And Football's still his Game,
He's done a lot of Things,
That he could brag about,
Advanced Degrees,
Athletes he Sees,
A Wife and a Family,
He speaks of so Proudly,
Yet, he's still the Same,
And, "Bill" is still his Name,
But, I can tell,
They Love him,
Because he's Wonderful,
Because he's just their "Bill"!
I used to dream that I would discover,
A Special Pupil One Day,
I knew I'd recognize him,
If ever, he came 'round my Way,
He'd grow to be one of those God-like kind of men,
With a Giant Brain and a Noble Head,
Like the Heroes Bold,
In the books I'd Read,
But, along came "Bill",
Who's not that type at all,
His smile and Face,
Athletic Grace,
Are not the kind you'd find in a Statue,
Yet, I can't explain,
He's surely not "A Brain",
But, I could tell,
That he was "Special",
Because he's, I don't know,
Because he's just my "Bill"!
He's just my "Bill",
So handsome, dark, and Tall,
You'd meet him in the Hall,
And always notice him,
Those big, brown Eyes,
So Deep and Wise,
Both Brilliant and Daring,
Yet, Thoughtful and Caring,
Still, I can't Explain,
It's surely not his Name,
But I could Tell,
He'd be "Special",
"Some Kind Of Wonderful",
Because he's Just My "Bill"!
Now, he's my "Doctor Bill",
And Healing is his Theme,
He took away the Pain,
And made me walk Again,
With constant Faith,
His Surgeon's Hands,
To God gave the Glory,
'Cause Love is his Story,
Whether Rich or Poor,
He treats them All the Same,
And They can tell,
He's "Special",
And he is Wonderful,
Because he's still just "Bill"!
Original Poetry by Kathryn E Phillips
For Dr. William Prince Bryant, "Bill",
And 'The Class of 1971'.
A Rhythmic Interpretation
Inspired from Music by Jerome Kern
Copyright 1927
"Bill"
Composed by Kathryn
On..
6/1/2006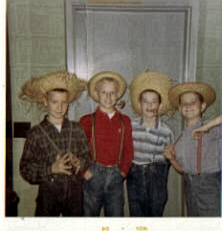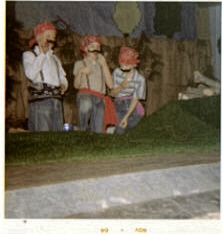 Third from Left: Bill Bryant pictured as 'Huck Finn'
L-R: John Richardson, Dwight Beavers as 'Tom Sawyer', Bill Bryant as 'Huck Finn',
and..Ernie Wright
Cast Members from..
A 1964
Sixth-Grade Class Production
Of
"Tom Sawyer"
A Musical Version
Photos by: Kathryn E Phillips
In 2001, I began to think about
ways in which outstanding alumni
,like "Bill",
could be honored
during the
Stevenson Depot Days Festival.
Those who live outside
The Greater Stevenson, AL Area
aren't eligible for nomination
for
'GRAND MARSHAL'!
Maybe we could..
establish a..
'Stevenson Depot Days
Hall of Fame',
I thought.
How about..
awarding a 'Stevenson Choo Choo Statuette'?
Or..
Designing..
our own unique..
'Oscar' or 'Emmy'?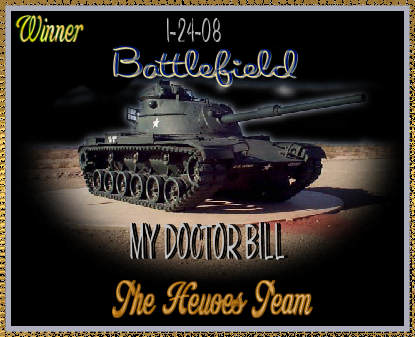 An Award-Winning WEBSITE?
Complicated..?
I don't know how such a yearly recipient
would be selected,
or if it would ever happen..!
Anyway, here's my personal introduction to my Website Tribute for
2013:

DR. WILLIAM PRINCE BRYANT

...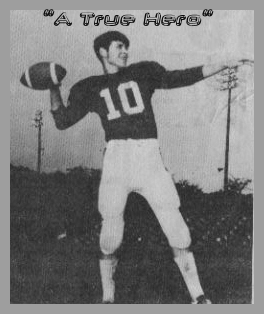 http://stevensondepotdays.com/





View my Photo Album
Free Photo Albums by Bravenet.com

~~In MEMORIUM~~

"Doc Bill" lost his final battle with Lung Cancer in the summer of 2006...
but...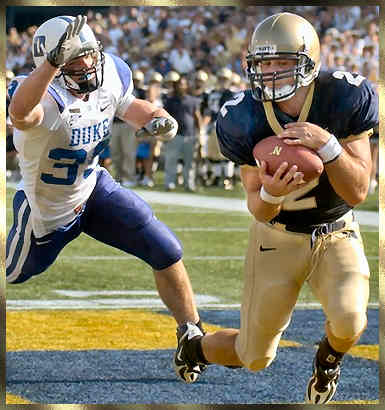 THE LEGEND LIVES ON...
As...
The late "Doc Bill's" son...
Jarod...
Shown above...
Catches a Touchdown Pass...
As Quarterback for NAVY in 2007
NAVY vs DUKE Football Game!

NAVY TEAM PREDICTIONS:HERE

"• QB Jarod Bryant, played an important role as Kaipo-Noa Kaheaku-Enhada's backup in 2007. He was predicted to be a double threat at slot-back and quarter-back in 2008. He lined up at quarterback as needed in 2008, doing a fine job, until a serious shoulder injury in mid-season intervened."
Jarod graduated from NAVY in 2010.
He was accepted into Pilot's School shortly thereafter!...
NEW...

Click
HERE
For...
A Pictorial Memory of 'Doctor Bill' and the...
CLASS of 1971
at...
OLD STEVENSON HIGH SCHOOL!