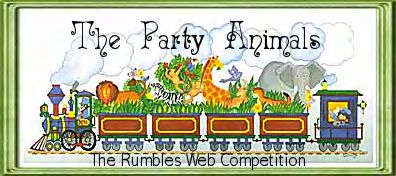 Talk to the 'Rumblers'!

If we could Rumble Together,
Just imagine it!
Cheering together,
What 'Party Animals' we would be!
Learning 'Rumbleze',
Would surely be a Breeze!
If people ask us what dialects we, 'Party Animals', speak,
Or, if it's a degree in Communication we seek,
We'll say,
"Visit our Sites and See"!
We're studying...
"Tibbinese"
Dalmation and Beagle,
Siamese and Maltese, Cockatoo, Gerbil, and Eagle!
Party Animals Got 'Rumble Spirit',
Just stop by, so You can Hear It!
Think of all the 'Spirited Friends' you could Meet,
Hey, you might even meet your 'Soul-Mate'!
So, surf by the 'Party Animals' Retreat',
'Cause our Team is hard to Beat!

Original Cheer by: The Gin-Tai Tibetan Spaniels
We borrowed some of our inspiration for our cheer above from:
"Talk to the Animals"

"Dr. DooLittle"
From the motion picture, starring Rex Harrison!

No copyright infringement intended!
Just a little fun!
MEMO:

'The PARTY ANIMALS' at 'THE RUMBLES' has a 'NEW LOOK'!

A HUGE Thanks to our TEAM LEADER for all she does for our team!Please visit...'The Party Animals', at 'THE RUMBLES'this week!